System Info:
Host - Jetson Xavier NX (Ubuntu 20.04)
Camera - Zed 2
Docker - Ubuntu 20.04 + ROS2 Foxy
Hi all, I'm using a Zed 2 camera on the system above that's running on our robot car. I'm able to run the Zed 2 camera inside Docker using the command in the docs. I'm also able to open RViz using the example. However, when I open both Zed in RViz (using that command) and also my Lidar sensor, the Zed camera briefly works before crashing and disconnecting. The only solution is to restart the container and unplug/replug camera.



After digging into this, I changed the Jetson's power mode from "10W Desktop" to "20W 6 Core". This solved the crashing issue and allowed both RViz windows (I assume there's some hardware limitation here). However, my Jetson keeps producing the warning System throttled due to Over-current. This happens exactly when I open the Zed RViz window.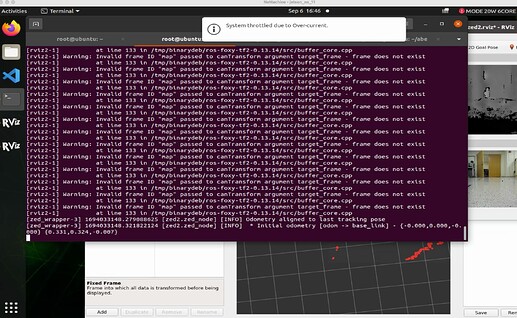 Was the issue initially due to the hardware limitation, or were the Zed and Lidar devices clashing? Regarding power mode, is there any way to workaround this?