Hi,
Just received my Zed 2i Camera and installed SDK and CUDA 10.2 on my i5 Nvidia 940mx.
ZED depth viewer, explorer, ZedFu, etc…all works fine
But when compiling sample project with visual studio 2019 C++
I have this error when trying to execute ZED_Body_Tracking_Viewer.exe.
Compilation was successfull but have this message :
[Sample][Error] enable Object Detection  | CORRUPTED SDK INSTALLATION : Corrupted SDK detected. Please reinstall the ZED SDK, or check for missing dependencies when using sl_ai(cuDNN, TensorRT).
Exit program.

I've reinstalled the latest Zed SDK 4.0.3.
Same message.
I followed this thread : Problem with object detection : [ZED] [Object Detection] SL_AI_NOT_FOUND
But Dependency Walker is freezing when open sl_ai64.dll
Don't know what to do

Here are some screeshot when I generated the project in case it can help find the problem :
CMAKE:


CMAKE LOG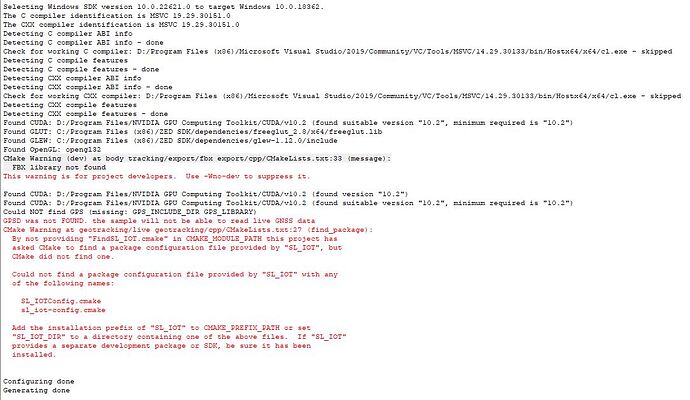 RELEASE BUILD EXECUTION ERROR

Can someone help me please?