The goal:
I would like to use the ZED Unity plugin's spatial mapping, inside-out positional tracking, and real-time plane detection functionality alongside the Quest Pro's functionality (eye tracking, hand tracking, body tracking, color passthrough, etc.). I do not need to render any camera images from the ZED camera (2/mini), only to re-create the real world as a mesh and help with tracking. I would like this to potentially work with other VR headsets as well using OpenXR (app running on computer not VR headset) (I understand OpenXR is currently not supported, but based on the below, i'm wondering if there is a workaround since I only use specific features).
The problem:
I have a 2022.1.17f1 Unity project with the ZED Unity plugin (3.8.0), Oculus Integration (46.0) (Interaction, Platform, SampleFrameowrk, VR), and XR Plug-in Management installed. The Scene contains a Directional Light, standard Camera, ZED_Rig_Mono prefab (with its camera disabled), and a GameObject that holds a script to automatically initially Spatial Mapping once the ZED camera is ready.
I am able to get generated meshes via spatial mapping when the "OculusXR Feature" is disabled.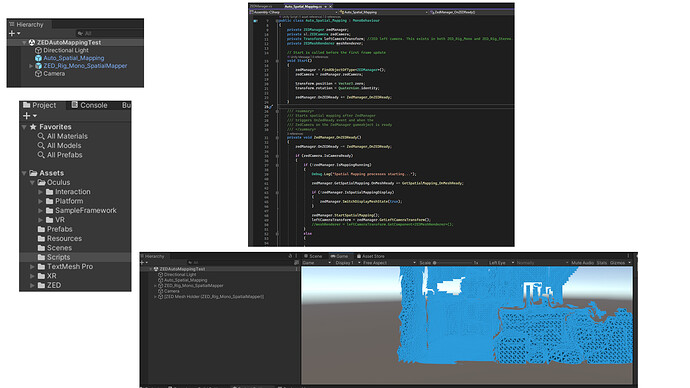 When I enable the "OculusXR Feature," the spatial mapping no longer creates meshes.
The question:
Is there a way for what I am trying to do achievable using OpenXR? Are there some logging/troubleshooting steps I can use to help me determine the exact issue to create my own workaround? (like perhaps using a separate scene, a separate thread, creating spatial mapping as an OpenXR feature, etc.)