I am trying cmake configuration of zed-openpose.
It is the same issue presented here (CMake Error at CMakeLists.txt:18 #8 - Github Lab) but seems not answered.
Is it not supported to build zed-openpose in windows?
Here are what I have done:
followed openpose installation procedure for windows (using VS studio build) and succeeded running demo. (location> C:\Users\sakur\openpose)
git cloned zed-openpose at C:\Program Files (x86)\ZED SDK\samples\zed-openpose.
tried cmake configuration and got an error below;
CMake Error at CMakeLists.txt:23 (find_package):
By not providing "FindOpenPose.cmake" in CMAKE_MODULE_PATH this project has asked CMake to find a package configuration file provided by "OpenPose", but CMake did not find one.
Could not find a package configuration file provided by "OpenPose" with any of the following names:
OpenPoseConfig.cmake
openpose-config.cmake

Add the installation prefix of "OpenPose" to MAKE_PREFIX_PATH or set "OpenPose_DIR" to a directory containing one of the above files. If "OpenPose" provides a separate development package or SDK, be sure it has been installed.
---
Searching files in openpose, "OpenPoseConfig.cmake.in" found in \openpose\cmake. I suppose it does not meet to collaborate with zed-openpose.
Here is my cmake-gui condition below.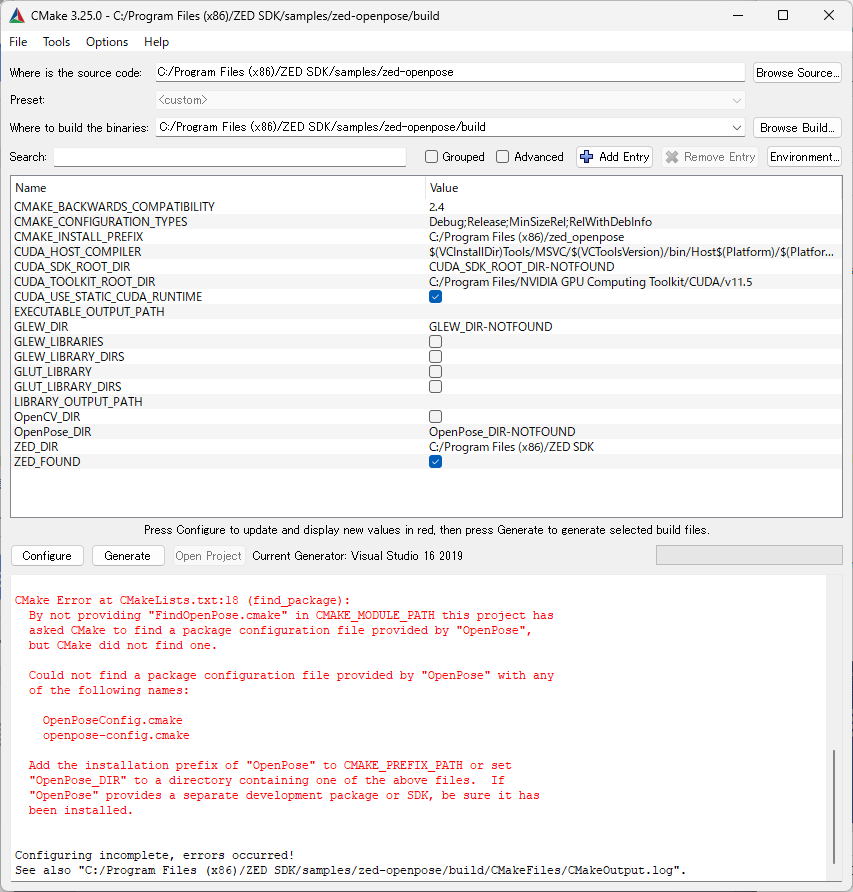 I appreciate any help about this problem,
Thank you.