I was installing ZED SDK on Nvidia AGX Xavier running JetPack 5.1.1 which the ZED SDK Webpage has a download link for… After running the .run file, the terminal asked for a series of promts where I gave "y" to all and proceeded with the default settings. Almost at the end of the install I'm seeing - "ERROR: pyzed 4.0 has requirement cython==0.29.36, but you'll have cython 3.0.2 which is incompatible."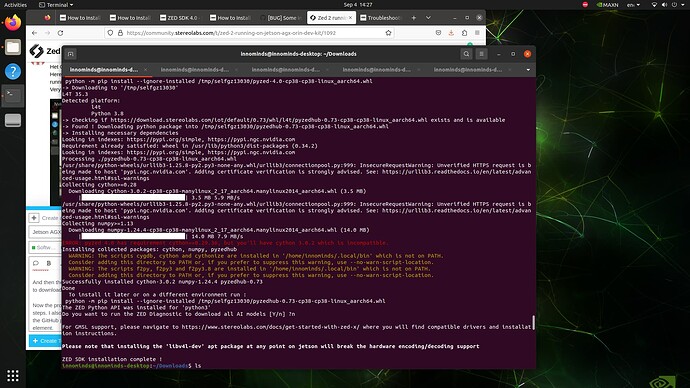 And then the following promts are encountered - "Do you want to run the ZED Diagnostic to download all AI models [Y/n] ?" Which I gave "n" completed the installation.
Now the problem, I'm unable to run any samples that were installed during the installation steps. I also wanted to install ZED with GStreamer, tried the steps that were mentioned in the GitHub page. And after typing - "gst-inspect-1.0 zedsrc", the output says no such element.
Can someone please help with proper installation of ZED SDK on Jetson AGX Xavier board?