Hi,
I'm still having trouble getting consistent depth images from our ZED camera (Neural mode).
A screenshot of the settings used in the ZED Depth Viewer application can be found at the end of this message.
The problem:
The result is good in HD720 mode (first screenshot).
The result is quite degraded when starting the application in HD1080 mode (second screenshot).
The result is totally wrong when you don't quit the application and switch from HD720 mode to HD1080 mode.
You can also notice that the field of view is not the same when you start in HD1080 and when you switch to HD1080 from another mode.
Do you have any tips on how to get results as good in HD1080 as in HD720?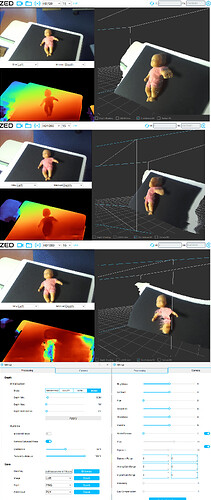 Many thanks in advance.